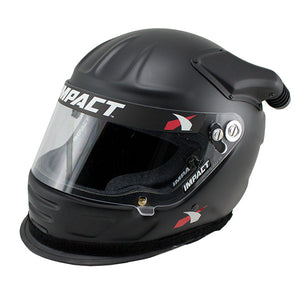 The Impact Offset 20 is a unique design offering the utmost in comfort, large field of vision and roof clearance in a top air helmet. This is the raw, unwired version of the helmet.
Features:
SNELL SA 2020
Wide, low eye port for better field of view and great view of the dash.
Constructed of a Carbon-Kevlar tri weave composite.
Offset 20 Air Inlet for additional overhead clearance of the roof of the vehicle. Connect your RaceAir hose and fresh air is pumped into three individual air channels towards the shield reducing fog.
Optional Upgrade to Noise attenuating Ear Cups.
All SA 2020 helmets have the 6mm back plate installed for easy Head and Neck Restraint hardware installation.