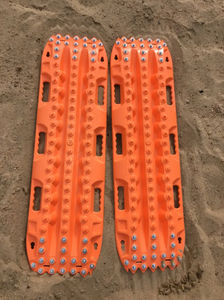 The Metal Tooth Version features 72 pre-installed metal "teeth". Our standard Teeth ActionTrax can be modified yourself if you wear down teeth or have us do the work and provide the hardware with this ready-to-go extreme version. Metal teeth provide a much greater "grab" on the tire and do not wear down as polymer teeth do with wheel spin. We use US-made 1/4" 20 TPI x 3/4" galvanized steel bolts with washers and nylock nuts. Beware: For Heavy Duty and Extreme Use ONLY. Metal Teeth can damage standard tires if you spin your wheels. For Experienced Users and Extreme Use ONLY.
100% Made In America. Improved design with input from elite military units and winning Baja 1000 racers. Featuring a sawtooth end for better material clearing capabilities. Quick link system to make temporary roads with whatever cording or flex-cuffs may already be in your kit. Performed drill bit alignment holes on the bottom of each tooth to allow for easy repair with easy to source standard hardware. Larger handholds for gloves and big hands. Improved material composition and UV Stabilizer. Designed to be multi-purpose and allow you to repair burnt teeth in the field. All materials and labor are 100% US Sourced.
Unconditionally Guaranteed against all defects except burnt teeth from excessive wheel spin. No terrain or vehicle weight restrictions. Made with care in Kansas, with US tooling and materials, by desert racing airplane mechanic, family, and friends. Thank you from our family to yours. Safe Travels.